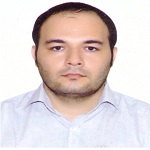 Iran, Islamic Republic of
Kerman University of Medical Sciences (Kermān, Iran).
Hamid Reza Rahimi's
Address:
Kerman University of Medical Sciences (Kermān, Iran).
Research Interests:
Cellular Toxicity Evaluation (MTT assay) Animal Toxicity Studies including Acute (LD50) Sub-acute
Sub-chronic and Chronic Exposure to Drugs and Materials Organ Toxicity (specially liver toxicity)-Evaluation Protective Drugs or Plant Extracts Neuroscience
Behavior and Neurobiology Toxicology Mechanisms including Molecular
Cellular Biology
Receptor and Signaling Evaluations Nanotoxicology
Nanosafty and Ecotoxicology Clinical Toxicology and Patients Poisoning Hepato-Gastroenterology Pharmacology Immunotoxicology Microbiology and Antibiotics.
Biography:
Research:
Jamalifar H, Rahimi HR, Samadi N, Shahverdi AR, Sharifian Z, Hosseini F, Eslahi H, Fazeli MR. Antimicrobial activity of different
Lactobacillus species against multi-drug resistant clinical isolates of Pseudomonas aeruginosa. Iran J Microbiol. 2011;3(1):21-25.
Ebadollahi Natanzi AR, Mahmoudian S, Rahimi HR, Mohammadpour M. Effects of some meteorological parameters and formulation on
phytotoxicity of the fungicide captan. Iran J Toxicol. 2011;5(14):488-494.
Rasouli M, Kalani M, Rahimi HR, Moravej A. Association of Interleukin-15 Single Nucleotide Polymorphisms with Resistance to
Brucellosis among Iranian Patients. Tissue Antigens. 2011;78(5):352-358.
Fouladdel S, Azizi E, Rahimi HR, Ostad SN. Determination of the Expression of COX-2 and Aromatase Protein in Parent and
Tamoxifen-resistant Subline of Human Breast Cancer T47D Cells. Inter J Pharmacol. 2011;7(6):710-715.
Hacopian N, Rahimi HR, Ghahremani MH, Hosseinzadeh Nik T, Ostad SN. Effects of continuous and interrupted forces on gene
transcription in periodontal ligament cells in vitro. Acta Medica Iranica. 2011;49(10):643-649.
Balouchzadeh A, Rahimi HR, Ebadollahi-Natanzi AR, Minaie B, Sabzevari O. Aqueous extract of Iranian green tea prevents lipid
peroxidation and chronic ethanol liver toxicity in rat. J Pharmacol Toxicol. 2011;6(8):691-700.
Nili-Ahmadabadi A, Rahimi HR, Tavakoli F, Hasanzadeh GR, Sabzevari O. Protective effect of pretreatment with thymoquinone against
Aflatoxin B1 induced liver toxicity in mice. DARU, Journal of Pharmaceutical Sciences. 2011;19(4):282-287.
Rahimi HR, Arastoo M, Shiri M. Punica granatum is more effective to prevent gastric disorders induced by helicobacter pylori or any
other stimulator in humans. Asian J Plant Sci. 2011;10(7):380-392.
Rahimi HR, Gholami M, Khorram-Khorshid HR, Gharibdoost F, Abdollahi M. On the protective effects of IMOD and silymarin
combination in a rat model of acute hepatic failure through anti oxidative stress mechanisms. Asian J Animal Vet Adv. 2012;7(1):38-45.
Rahimi HR, Arastoo M, Ostad SN. A comprehensive review of Punica granatum (Pomegranate) properties in toxicological,
pharmacological, cellular and molecular biology researches. Iran J Pharm Res. 2012;11(2):385-400.
Rahimi HR, Hasanli E, Jamalifar H. A mini review on new pharmacological and toxicological considerations of protease inhibitors'
application in cancer prevention and biological research. Asian J Cell Biol. 2012;7(1):1-12.
Rezvanfar MA, Rahimi HR, Abdollahi M. ADMET considerations for phosphodiesterase-5 inhibitors. Expert Opin Drug Metab Toxicol.
2012;8(10):1231-1245.
Rahimi HR, Shiri M, Razmi A. Antidepressants can treat inflammatory bowel disease through regulation of the nuclear factor-κB/nitric
oxide pathway and inhibition of cytokine production: A hypothesis. World J Gastrointest Pharmacol Ther. 2012;3(6):83-5.
Abdolghaffari AH, Nikfar S, Rahimi HR, Abdollahi M. A. comprehensive review of antibiotics in clinical trials for inflammatory bowel
disease. Inter J Pharmacol. 2012;8(7):596-613.
Acute and subacute toxicity of novel biogenic selenium nanoparticles in mice. Shakibaie, M., Shahverdi AR, Faramarzi MA,
Hassanzadeh GR, Rahimi HR, Sabzevari O. Pharma Biol. 2013;51(1):58-63.
Rahimi HR, Rasouli M, Jamshidzadeh A, Farshad S, Firoozi MS, Taghavi AR, Kiany S. New immunological investigations on
Helicobacter pylori-induced gastric ulcer in patients. Microbiol Immunol. 2013;57(6):455-62.
Rahimi HR, Dehpour AR, Mehr SE, Sharifzadeh M, Ghahremani MH, Razmi A, Ostad SN. Lithium attenuates cannabinoid-induced
dependence in the animal model: involvement of phosphorylated ERK1/2 and GSK-3β signaling pathways. Acta Med Iran.
2014;52(9):656-63.
Rahimi HR, Soltaninejad K, Shadnia S. Acute tramadol poisoning and its clinical and laboratory findings. J Res Med Sci. 2014
Sep;19(9):855-9.
Rahimi HR, Agin K, Shadnia S, Hassanian-Moghaddam H, Oghazian MB. Clinical and biochemical analysis of acute paint thinner.
Award & Honors:
14th Iranian Pharmaceutical Sciences Congress (IPSC 2009), 1st Rank, Ahvaz, Iran
Course Teaching
Drug Information, Shiraz University (Jahad Daneshgahi of Fars), 2008-2010
Toxicology and Pharmacology Laboratory Training of Pharmacy Student at Faculty of Pharmacy, TUMS, Tehran, Iran; 2010-2015
Pharmacy Internship Training of Pharmacy Student of TUMS and Kish University of Medical Sciences (International Branch of TUMS); 2012-2015
Pharmacology and Toxicology Courses For Pharmacy Students and Ms of Toxicology at KMU-2015-present.