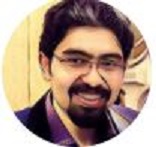 Iran, Islamic Republic of
University of Tabriz · Department of Mechanical Engineering,Research Assistant.
Reza Razaghi
Address:
University of Tabriz
Department of Mechanical Engineering
Tabriz.
Research Interests:
The mechanism of injury in accidents and sports.
Dynamic finite element analysis of the human head and mandible injury.
Modeling and simulation of the fluid-solid interaction in human coronary arteries. Biomechanics of the eye.
Orthopaedics biomechanics & bone-implant interactions.
Smooth particle hydrodynamics (SPH) simulation. Nano-biomechanics & cell mechanics.
Biofluid mechanics of soft tissue and edema.
Modeling and simulation of dynamic systems (Inverse Dynamics).
Crashworthiness and impact simulation using the explicit FEM code (LS-DYNA3D).
With regard to soft skills, I consider myself competent in the following abilities: Coordinating several tasks and projects simultaneously. Being a team leader.
Taking initiative and assuming responsibilities. Being communicative and a team player.
Biography:
Outstanding researcher at 2013-2014 Academic year, Department of Mechanical Engineering, Iran University of Science & Technology.
Candidate for the Top national student of Iran award, 2015.
The Nightingale Prize, Best paper of the year, The International Federation for Medical and Biological Engineering (IFMBE), 2015.
Certificate of Outstanding Reviewer, Materials Science and Engineering C, ELSEVIER, January 2016.