Variation of Ethnomycological Knowledge in a Community from Central Mexico
Abstract
We analyze the effects of the ethnomycological knowledge depending on the age range of its users and how far their homes are from the forest areas. As a study model, the traditional mycological knowledge of San Pedro Tlalcuapan SPT, in Central Mexico was used. During 2017, 135 semi-structured interviews were conducted with people of three age ranges and living in three areas of the community located at different distances from the forest. Data was analyzed using descriptive statistics and analyses of non-metric multidimensional scaling, which were then applied to calculate two indices. The effect of age and origin of the individuals on bio-cultural relevance was assessed using multiple linear regression models.Fifty species of edible wild mushrooms were registered, those mentioned most often were of the Russuladelica complex., Amanita basii and Boletus aff. edulis. Ninety-five percent of the people interviewed consumed wild mushrooms on average two times a week, while 57% collected them. Wild mushrooms are mainly recognized for their food and ecological importance. Ordination and regression analyses show that people closest to the forest, as well as older people, are able to identify more of the wild mushrooms and have greater bio-cultural mushroom awareness. Results show that there is a risk that traditional knowledge about wild mushrooms will disappear, since it is only popular in a part of the community and only at some age ranges, indicating that there is a disconnect in the transfer of knowledge.
Author Contributions
Received
19 Mar 2019;
Accepted
28 May 2019;
Published
05 Jun 2019;
Academic Editor: Samantha Chandranath Karunarathna, Kunming Institute of Botany, Chinese Academy of Sciences, Kunming, China
Checked for plagiarism: Yes
Review by: Single-blind
Copyright ©  2019 Eribel Bello-Cervantes, et al.
License
    This is an open-access article distributed under the terms of the Creative Commons Attribution License, which permits unrestricted use, distribution, and reproduction in any medium, provided the original author and source are credited.
Competing interests
The authors have declared that no competing interests exist.
Citation:

Eribel Bello-Cervantes, Alexander Correa-Metrio, Adriana Montoya, Irma Trejo, Joaquín Cifuentes Blanco (2019) Variation of Ethnomycological Knowledge in a Community from Central Mexico. Journal of Fungal Diversity - 1(1):6-26.
Introduction
Bio-cultural heritage is maintained by traditional knowledge, which is a belief system (cosmos), knowledge (corpus) and practice (praxis) that have been generated, specialized, shared and transferred across generations in native communities, according to the characteristics and the needs of each people. This knowledge is transferred through conversation. This transference is weakened and may possibly become extinct if communities no longer reassess it, use it and pass it on 1, 2.
Different socieconomic pressures have resulted in a series of modifications in the use of natural resources, which has threatened and endangered bio-cultural diversity 3, 4, 5. It has been observed a cultural change driven by the formal education systems 6, 7, 8, the integration of local communities in the market economies 9; the restriction on access to resources through conservation programs 10, in addition to the processes of modernization that include, introduction of technology, urbanization and modern health services 11.
This cultural change has been reflected in the variation of the distribution of traditional knowledge. The age, gender and profession are some factors that influence the diversity and richness of this knowledge (12. It has been documented that older persons embrace greater local knowledge 13. As well, persons involved in few or no environment-related activities have less traditional knowledge 12, 14, 15). In other words, elderly people and/or those connected with the environment are currently protecting this traditional environmental knowledge and can pass on to other generations.
Wild mushrooms play an important ecological 16 and cultural role in many communities, from pre-Hispanic times. Even, today, they continue to be a valuable forest resource that provide much-needed income for many families in the world 17. Various studies have described differences in the ethnomycology knowledge within communities or by gender 18, 19, 20, 21), and by age 22, 23. So far, however, we did not have the tools to discover the causes and ways in which traditional mycological knowledge about mushrooms is distributed.
San Pedro Tlalcuapan (SPT) is a community of indigenous nahua ancestry, located in the slopes of the National Park La Malinche (PNLM) in Tlaxcala, Mexico. Activities, such as collecting mushroom and edible or medicinal plants contributed to the generation of knowledge, ideas and myths, as well as to the local economy. Currently, natural resources are dwindling, resulting in a change and detachment from traditional ecological knowledge. Concerned about this situation, local authorities and members of the community have shown interest in reaffirming and supporting the conservation of their bio-cultural heritage.
This paper, therefore, explores the effect that the distance from a house to the forest has on the preservation of traditional knowledge as well as the change of knowledge according to age. Then can we develop a strategy for the conservation of the area's mycological resources and the knowledge about them.
Materials and Methods
Study Area
The community of SPT, located in the Northwest part of the PNLM (19 ° 16' 50.02 'N, 98 ° 09' 0630' W), is a municipality of Santa Ana Chiautempan, in the State of Tlaxcala, Mexico (Figure 1). It has an altitude of 2,411 meters above sea level, in an area characterized by precipitation averaging 901 mm a year and annual temperatures averaging 15.75 ° C. The community is surrounded by pine forests, pine-oak forests, oak-pine forests, each with different levels of conservation, as well as man-introduced grassland and temporary agriculture 24.
Figure 1. Location of the SPT in the National Park La Malinche Tlaxcala, Mexico. Top left of the image represents the location of the National Park La Malinche inside Mexico. Top right, represents SPT within the national park. In the lower part of the image, the 4 main areas of the studio area are shown.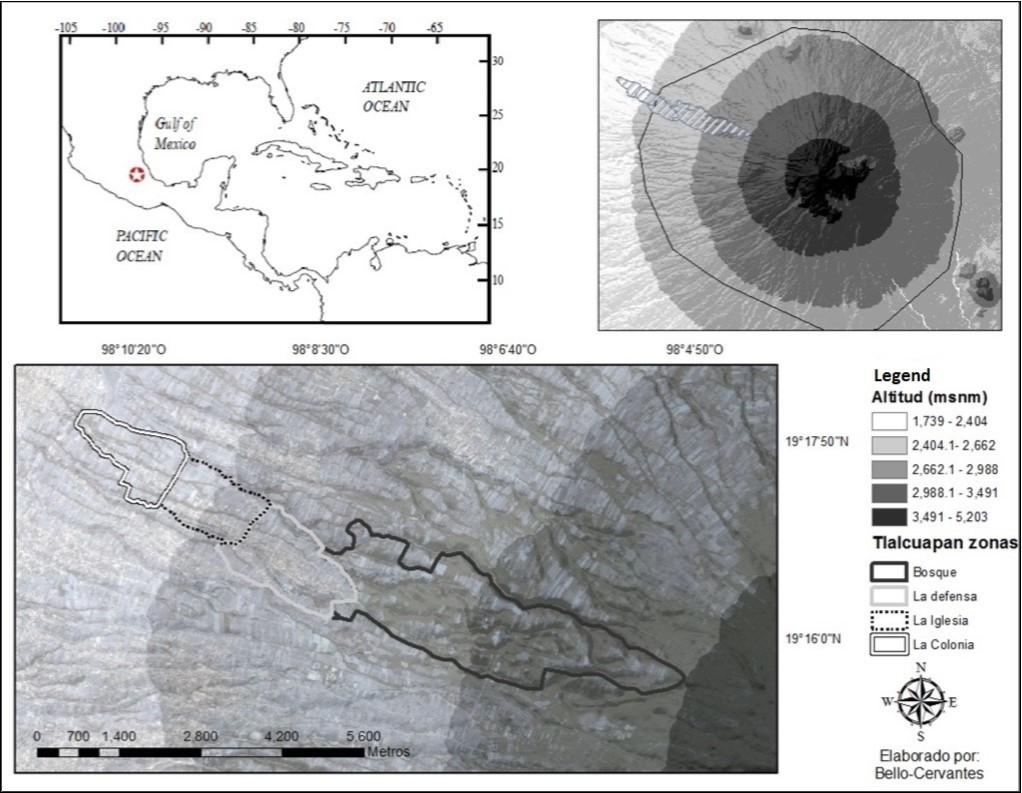 San Pedro Tlalcuapan extends along 1,162 hectares, of which approximately 600 are covered by crops and forest; the rest belongs to the local population, which is divided into three main areas: La Defensa, La Iglesia and La Colonia (Figure 1). La Defensa is the area closest to the forest, located 200 m from it. La Iglesia is located in the center of the village, about 2.5 km away from the forest, and La Colonia, situated on the outskirts of the village, is the farthest from the forest (4.4 km) and closer to the city of Santa Ana Chiautempan (2.2 km).
Tlalcuapan has 3,613 people spread over 837 households, 45% of the population is between 20 and 59 years of age, 10% is older than 60, and 13% of the population still speaks the Nahua (native language) 24.
Fieldwork and Interviews
Before this research started, we requested permission from the local authorities of the community to conduct it, notifying them about the project and requesting the consent of each interviewee.
Field trips were undertaken in the 2017 rainy season, accompanied by local people who knew the local mushrooms (hongueros), to learn the uses and names of the mushrooms, their seasons and where they grew. The mushrooms collected were identified taxonomically and deposited in the TLXM herbarium.
A semi-structured interview 25 was designed that included three aspects: (a) the respondent's personal information, including name, gender, origin, age and occupation; (b) edible mushroom-free listing, where each person was asked to name 20 mushroom he or she knew; (c) questions about each mushroom's bio-cultural importance (use, who uses it, how many times per week it is used, since when it has been used, way to get the mushrooms, harvesting activity, current or obsolete activity, its role in the forest and local management of mushroom collection and declared significance.
The interviews were divided into three groups of 45 individuals each. Each group corresponded to the areas in which the community is divided. The groups were composed of people of different ages, ranging from 8 to 90 years, which were classified into three age ranges: youth (8-20 years old), adults (21-60 years old) and older adults (persons over 60 years); each age range consisted of 15 individuals. In total, 135 people were interviewed, representing 15% of the main households of Tlalcuapan.
Statistical Analysis
The data obtained was analyzed with descriptive statistics to determine the importance that mushrooms have in the community. Two analyses of Multidimensional Non-Metric Scaling (NMDS) were applied to calculate two indices: a) Ethnotaxa Index (EI), to group persons according to the mushrooms mentioned in the free listing task, B) Bio-Cultural Significance Index (BCSI), to evaluate the Cultural significance of mushrooms, between the interviewed persons.
A qualitative matrix (46 X 135 OTUs or persons) was constructed with mushroom local names, age and home location of each person (from the three studied areas) to calculate de EI. In the case of BCSI, another qualitative matrix (29 X 135 OTUs or persons) was constructed, using the third section of the interview data, age and home location of each person (from the three studied areas). Responses to each question were coded as binary variables 26. A similitude analysis was carried out using the Euclidian distance index, followed by a NMDS Ordination analysis. So that each individual's scores represent each index. All eigenvalues, their percentages and their cumulative percentages were obtained. The age and origin of the interviewed persons were used to explain the scores obtained by them in each index (EI, BCSI). This relationship was assessed using models of multiple linear regression 27, with the score of each person in the index as the dependent variable, and the age and origin as explanatory variables. Finally, a third linear regression was developed to evaluate the relationship between EI and BCSI. All analyses were carried out in the program R 28.
Discussion
The data obtained show that, in SPT, mushrooms are an important natural resource for the community, since the majority of the population identify and use them. The richness in the variety of names that are given to the wild mushrooms by specific ethnic groups is one of the indicators of the importance of these species, and the many traditional mushroom names correspond to a greater knowledge about their use and biology 29. SPT has more useful mushroom species (50) than other communities situated on La Malinche 18, 19, 30. Although they have reported about 15 to 30 species of mushrooms, the number of species in the community studied is similar to that reported for the Nahua community of San Isidro Buensuceso, where 48 species have been recorded 30.
Two of the species most frequently mentioned by respondents to this study (Amanita basii and Boletus edulis complex.) largely agree with those recognized as the most important in other communities of La Malinche, Tlaxcala and other regions of Mexico 19, 31, 32, 33. This confirms the importance of these mushroom species in Mexico. The preference of Russuladelica complex, is a special trait that distinguish to this community.
The majority of the people who consume edible wild mushroom mentioned in this study had been eating them for at least six months per year. Many of the respondents (mainly those who live in the two areas closest to the forest) obtain the mushrooms by harvesting them directly. This activity, as well as how the mushrooms are used, is still passed along from generation to generation. As is suggested by Boesch and Tomasello 34, this type of cultural transmission occurs between individuals of different generations, but within the same family (vertical transmission), for example, from parents to children. Furthermore, it is observed that this transmission is oral and hands-on, as mentioned by Luna-Morales 35, who showed that traditional knowledge has been generated, selected and accumulated collectively over thousands of years, and lives on in the memory and practices of the people and is mainly passed on through oral and hands-on communications.
The residents of SPT also recognize the roles that wild mushrooms play in the forest, such as providing fertilizer, seed for new growth and food for wild animals, so, the mushrooms are considered an important part of the natural environment in which they grow. This is confirmed because many of the interviewees noted that mushrooms are associated with trees and, over the years, they have used different methods to maintain their care.
Some studies in which traditional mycological knowledge is described mention that this knowledge varies depending on age 36, 37, 38, 23 and gender 19, 20, 21, however, in most of these studies they compare the number of fungi and uses that people enunciate, without considering other variables or statistical analyzes that allow identifying the differences between age ranges. An exception is that of Pacheco-Cobos et al. 20 who GPS-tracked the foraging pathways of 21 pairs of men and women from an indigenous Mexican community searching for mushrooms in a natural environment; measures of costs, benefits and general search efficiency were analyzed and related to differences between the two sexes in foraging patterns.
In this case, the two indices proposed in this study show significant differences in the knowledge about mushrooms depending on the age of, or the area inhabited by, the people of SPT. The EI is useful because it takes into account the mushrooms that everyone knows and not just their number allowing distinguishing those exclusive of certain age ranges. On the other hand, the BCSI considers different variables about uses, collection and mushroom ecology, that indicate the importance of the mushrooms as a resource, what facilitated knowing the knowledge distribution.
The age was an important factor in the level of knowledge, as it was observed in other studies 12, 15, 39. Regression analysis demonstrated that older people have a higher ethnotaxa index, i.e., they can identify the highest number of wild mushrooms in the area. But also a lower BCSI, which indicates that the elderly have a greater ecological knowledge, about collection and more uses than young people.
This situation could be explained by, as suggested by Garro 40, that age is associated with the natural process of the acquisition of knowledge, i.e., the greater the awareness in older adults is attributed to the greater opportunities they have had to learn, acquiring more experience and contact with the natural resources around them 15. Also several studies have shown that the peak of acquisition of teoric knowledge, i.e. when this knowledge is similar to an adult, occurs at 10-15 years old 41, 42, 43, with an important increasing between 9-12 years old 44, 45, 46. There are another factors affecting the acquisition process.
The fact the children and young people know less and participating less in these collection activities, indicate a loss in the transmission of mushroom knowledge, specially in La Colonia area. Eyssartier et al. 47, found that the transmission of traditional knowledge begins in early childhood, when children accompany their parents in cultivating the land. It appears, however, that, today, there are fewer opportunities for children to spend time with their parents, grandparents and others who know the practices and belives about conservation 48. It has documented that formal education marginalizes local knowledge 14, 49, causing changes and promoting an urban life style 50, 12.
The study findings also suggest that lower level of knowledge among young people may be result of lack of interest in traditional knowledge, as young people – influenced by modernization -- may well consider this type of knowledge to be obsolete. It has, indeed, been demonstrated that older people are less affected by external influences than the young 13. Young people tend to abandon their homes and ancestral customs as they focus their interests ton meeting the demands of Western culture 50.
The EI shows that people of each range age mention exclusive mushrooms, for example, Champiñon (Agaricusbisporus) is the most popular between young people. Yellow foot xolete (Gymnopusdryophillus) and Little cake (Russulaxerampelina complex) were named only by adults, whereas the Ayometecax (Lactariussalmonicolor), Tzunanacatl (Macrolepiota aff. procera) and Xocuepix (Helvellacrispa) were mentioned by older adults.
Significant differences were observed between the three areas of the community. The BCSI, permitted the observation that most of the people living the furthest away from the forest have less mushroom knowledge, since them do not collect, eat fewer of them and buy the mushroom what they do eat. They do not know where the mushrooms grow or how to take care of them. Because these people live in an urban area, they seem to think it easier to go to the grocery store to buy the farmed white mushrooms (Champiñon) than to go to the forest to look for the wild ones. Bonilla-Moheno and García-Frapolli 51 as well as, Reyes-García et al. 52 mention that the integration to the Market is an important factor that modifying traditional knowledge because people who can pay these kind of market products, substitute the forests products, making traditional knowledge irrelevant. Most of the people living in La Defensa close to the forest eat mushrooms which they themselves have picked, which increases local knowledge about mushrooms, where they grow, what season they appear and their uses. In addition, the majority says that it is a complementary activity to their daily work in agriculture, involving the whole family. Other authors have noted this also 14, 15 people who work with the environment are able to maintain a greater knowledge of mushrooms than those who do not.
For La Defensa residents, it is more economical and rewarding to get food from the mountain instead of going to the supermarket in the city, since that would incur major expenses. Many people said "we do not know the quality of what we buy and, in the forest, everything is clean and healthier." This is why they continue eating wild mushrooms.
The people of La Iglesia share both perceptions. Although the regression analysis indicates that each area has a different view of wild mushrooms, it confirms that the distance of housing from the forest has a significant impact on traditional knowledge. This indicates that there is a loss of mycological knowledge among people who live far from the forest and closer to the city.
While the bio-cultural relevance index includes more variables analyzed and, therefore, raises several questions, both indices were useful for achieving the objectives of this study, allowing the comparison of mushroom knowledge among local sites in the community and age groups. In addition, this study makes a methodological contribution since it can be replicated in any other community or group of communities. It must be taken into account, however, that neither of the indices can predict the outcome of the other. So future studies need to establish clear objectives and decide which index to use or perhaps develop one that it encompasses both objectives, since these data are independent.
Conclusions
SPT is a community in which currently the wild mushroom are a resource of great importance; however, previous analyses, and as authorities and residents of SPT have stated, there is a risk that traditional wild mushroom knowledge will vanish, as it seems to be restricted to only a part of the community's territory and to particular age groups, indicating that there is a fragmentation in the transmission of knowledge from generation to generation. This study will allow researchers to focus on how to better disseminate this knowledge to the vulnerable age groups and suggest strategies of strengthening the transmission of this knowledge to other age groups and/or territories.
On the other hand, the proposed indices facilitate the evaluation of the variables associated with the distribution of traditional knowledge and allow comparisons among different areas of study. These are also flexible, since the bio-cultural variables can be included or eliminated and adjusted to different cultures or natural resources.
Authors' Contributions
EB-C designed the study, carried out the field work, the analysis and interpretation of data and wrote the manuscript. AC-M made substantial contributions to the analysis and interpretation of data. RIT-V, AM and JC participated in the design of the study, and the revision of the document. All authors read and approved the final manuscript.
Acknowledgements
This research was supported by a doctorate grant assigned to Eribel Bello by CONACyT (number of award 290010) and the "Universidad Nacional Autónoma de México", was also supported by the project PAPIIT IN301118. We are very grateful to the people of SPT for their hospitality, interest and enthusiasm in participating in this research, especially to the families of Mrs. Mary, Mrs. Maura, Mrs. Tomasita, Mrs. Felix, Doña Teodora, Mario Orlando and Angel Eduardo who shared their knowledge to us and supported in the forest fieldwork. We are equally grateful to Eleazar Bello Cervantes, who shared their knowledge about the statistical analysis of data. Thanks to Ing. Elizabeth Hernández and Gundi Jeffrey, by critically reviewing the English version of this manuscript.