Pain between Psyche and Soma in Uro-Andrology
Abstract
How to define pain? One of the most accredited definition is certainly "An unpleasant sensory and emotional experience associated with actual or potential tissue damage, or described in terms of such damage" (IASP (International Association for the Study of Pain - 1986) and World Health Organization (WHO) 1.
However, what are the essential components of pain experience? Certainly many factors are involved such as, among others:
Perceptual ability / suitability / subjective threshold;
The "subjective" experience;
Multidimensionality;
Occasionally or chronicity.
All these components have to be taken into consideration in the treatment of these disorders which, very often, require a multidisciplinary approach. From a clinical psychological point of view, much can also be offered at a diagnostic level, from the reception to listening to the patient's suffering, to the evaluation with standardized tests and psychophysiological analysis procedures in order to arrive at an effective personalization of treatments
Author Contributions
Received
16 May 2020;
Accepted
15 Jun 2020;
Published
20 Jun 2020;
Academic Editor: Farah Yousef, Damascus University, Syria.
Checked for plagiarism: Yes
Review by: Single-blind
Copyright ©  2020 Carlo Pruneti, et al.
License
    This is an open-access article distributed under the terms of the Creative Commons Attribution License, which permits unrestricted use, distribution, and reproduction in any medium, provided the original author and source are credited.
Competing interests
The authors have declared that no competing interests exist.
Citation:

Carlo Pruneti, Sara Guidotti (2020) Pain between Psyche and Soma in Uro-Andrology . International Journal of Pain Management - 1(2):10-24. https://doi.org/10.14302/issn.2688-5328.ijp-20-3386
Introduction
There is a whole series of psychological components, involved the chronic and recurrent pain that could be able to increase or decrease the pain perception. Among others, more or less serious incidence on personality characteristics, the problems posed by the vicissitudes of life and coping style a decrease in the quality of life, possible changes in the most intimate relationships, incapacity for work, an unwanted or undesirable change in interests.
Therefore, complexity characterizes any painful experience that has character of continuity / repetition with strong interconnection between body, or painful parts of it, and psyche. There are also different facets depending on the location of the pain and inevitable consequences for the subject-patient, the family and / or the cohabitants, the socio-cultural context with a global suffering, for the patient and for those who are close to him, those structures gradually. In a simple and perhaps a little coarse way, the pain can be considered corresponding to two major categories, acute and chronic (Figure 1).
There are also various characteristics related to the perception of pain for which we correctly talk about:
Discriminatory component, that is the ability of pain pathways to transmit spatial and temporal information on painful stimulus;
Cognitive component, that corresponds to the meanings attributed to the experience of pain;
Affective component since painful stimuli are always accompanied by emotional experiences.
There are also other psychological and psychopathological reaction common in all pain experiences: anxiety and depression (Figure 2).
Figure 2.Pain –Anxiety –Depression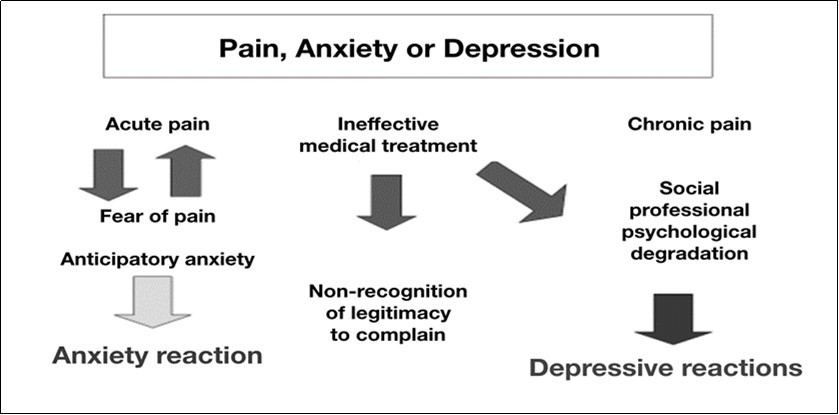 Pain perception varies across different individuals according to their mood, emotional condition and prior experience, even if the pain is caused by similar physical stimuli and results in a similar degree of damage.
In 1965, Ronald Melzack and Patrick Wall 2 outlined a scientific theory about psychological influence on pain perception; the 'gate control theory'.
If not for this theory, pain perception would be still associated with the intensity of the pain stimulus and the degree of damage caused to the affected tissue. But Melzack and Wall made it evident that pain perception is far more complex.
According to the gate control theory, pain signals are not free to reach the brain as soon as they are generated at the injured tissues or sites. They need to encounter certain 'neurological gates' at the spinal cord level and these gates determine whether the pain signals should reach the brain or not. In other words, pain is perceived when the gate gives way to the pain signals and it is less intense or not at all perceived when the gate closes for the signals to pass through. This theory gives the explanation for why someone finds relief by rubbing or massaging an injured or a painful area.
Though the gate control theory cannot present the complete picture of the central system that underlies pain, it has visualized the mechanism of pain perception in a new dimension and it has paved the way for various pain management strategies (Figure 3).
Figure 3.The Gate Control System, by Melzack and Wall 1965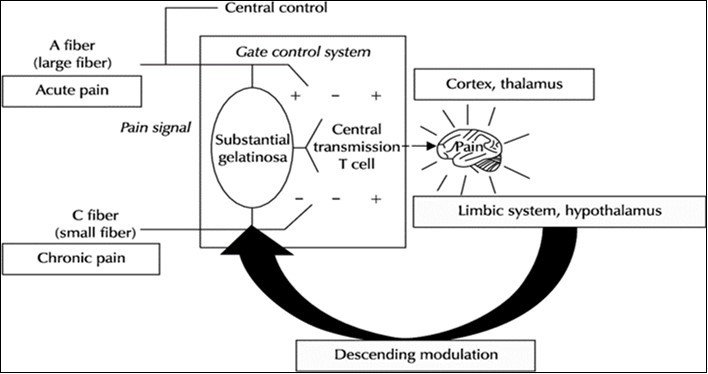 Therefore, we can talk about pain as a total experience of the whole organism and, often, as already mentioned, with serious consequences in the subject's entourage who suffers a relapsing or chronic pain.
That obviously provoke strong repercussions primarily on a physical level but also at the psychological, social and working, interpersonal and relational levels and, why not, also spiritual (Figure 4).
References
1.APA. (1986) International association for the study of pain,Pain:. 26(3), 1-8.
2.Melzack R, P D Wall. (1965) Pain mechanisms: a new theory.Science19. 150(3699), 971-979.
3. (2013) American Psychiatric Association. Diagnostic and statistical manual of mental disorders (5th ed.). Arlington, VA: Author .
4.Pruneti C. (2019) funzionale in psicologia clinica e psicopatologia. Bologna: Società Editrice Esculapio.
5.Pruneti C. (2016) Positive Psychology: Old and New Theoretical Requirement for "Living this. , Moment".J Depress Anxiety 5, 242.
6.G L Engel. (1977) The need for a new medical model: a challenge for biomedicine.Science. 196(4286), 129-36.
7.G L Engel. (1980) The clinical application of the biopsychosocial model.American. , Journal of Psychiatry 137(5), 535-544.
8.Dombeck M. (2019) The Bio-Psycho-Social Model.MentalHelp.Net.American Addiction Centers.
9.C Jordan Albus, Herrmann-Lingen J, C. (2004) Screening for psychosocial risk factors in patients with coronary heart disease-recommendations for clinical practice. Eur J CardiovascPrevRehabil,11:. 75-79.
10.Janeway D. (2009) An integrated approach to the diagnosis and treatment of anxiety within the practice of cardiology.Cardiol. , Rev 17, 36-43.
11.Schussler G, Heuft G. (2008) Anxiety and depression in patients with medical diseases. , Z Psychosom Med Psychother 54, 354-367.
12.Bernstein C M Stockwell, M S Gallagher, M P Rosenthal, S L, K. (2013) Mental health issues in adolescents and young adults with type 1 diabetes: prevalence and impact on glycemic control. Clin Pediatr(Phila). 52, 10-15.
13.Hall P A Coons, M J Vallis, M T. (2008) Anxious temperament and disease progression at diagnosis: the case of type 2 diabetes. , Psychosom Med 70, 837-843.
14.M Hendrikz, Dann J, Kenardy F, J. (2008) Screening for depression in patients with diabetes mellitus. PsychosomMed. 70, 869-874.
15.Pouwer F. (2009) Should we screen for emotional distress in type 2 diabetes mellitus? NatRev Endocrinol,5:. 665-671.
16.J Volkers Nuyen, A C Verhaak, P F Schellevis, F G Groenewegen, Bos P P Van den et al. (2005) Accuracy of diagnosing depression in primary care: the impact of chronic somatic and psychiatric comorbidity. Psychol. , Med 35, 1185-1195.
17.M D Seelig, Katon W. (2008) Gaps in depression care: why primary care physicians should hone their depression screening, diagnosis, and management skills. J Occup Environ. , Med 50, 451-458.
18.Sherbourne C D Wells, K B Hays, R D, Burnam W, M A Judd et al. (1994) Subthreshold depression and depressive disorder: clinical characteristics of general medical and mental health specialty outpatients. Am J Psychiatry,151:. 1777-1784.
19. (2014) US Preventive Task Force (USPSTF,2014). Screening for Depression. Recommendations and Rationale.
20.Spielberger C D Gorsuch, R L Lushene, E R. (1970) for the State-Trait Anxiety Inventory (Self Evaluation Questionnaire). Palo Alto. , CA:ConsultingPsychologistsPress
21.RL Lushene Gorsuch, Vagg R, Jacobs P R, GA. (1983) Manual for the State-Trait Anxiety Inventory. Palo Alto, CA: Consulting sychologists Press.
22.E Sanavio Franceschina, Sica E, C. (2004) I disturbi d'ansia. In: Galeazzi, A.& Meazzini, P. (Acuradi) Mente e comportamento. Trattato italiano di psicoterapia cognitivo-comportamentale, Milano: Giunti Editore.
23.Lingiardi V. (1991) L'ansia: riferimenti semeiologici. In: Smeraldi, E. Bellodi, L. Provenza, M. A. proposito dell'ansia. In: Smeraldi,E.&BellodiL.(Acuradi). I disturbi d'ansia.Clinica e terapia, Milano:edi-ermes.
24.Beck A T Epstein, Brown N, Steer G, A R. (1988) An inventory for measuring clinical anxiety: Psychometric properties. , Journal of Consulting and Clinical Psychology 56(6), 893-897.
25.Rose M, Devine J. (2014) Assessment of patient-reported symptoms of anxiety.Dialogues in. , Clinical Neuroscience,16 2, 197-211.
26.Beck A T. (1978) Depression Inventory. Philadelphia: Center for Cognitive Therapy.
27.L E Beutler, Crago M. (1983) Self report measure of psychotherapy outcome. In: Lambert, M. Christensen, E. DejulioS. The assessment of psychotherapy outcome. , New York: WileyandSons
28.Hamilton M. (1967) Development of a rating scale for primary depressive illness. Hopkin University Press.
29.Kellner R. (1976) Abridged manual of the Symptom Questionnaire. Albuquerque:University of. , New Mexico
30.Pruneti C. (2011) The « P Stress Questionnaire »: A new tool for the evaluation of stress-related behaviours, Europ.J. of Clinical Psychology and Psychiatry, VI 3, 1-37.
31.C Saccò Pruneti, Cosentino M, Sgromo C, D. (2016) . Relevance of Autonomic Arousal in the Stress Response in Psychopathology.Journal of Basic & Applied Sciences 12, 176-184.
32.Fuller D. (1979) Biofeedback methods and procedures in clinical Practice. S.Francisco: Biofeedback Press.
33.T Braune Hoehn, Scheibe S, Albus G, M. (1997) Physiological, biochemical and subjective parameters in anxiety patients with panic disorder during stress exposure as compared with healthy controls.European Archives of Psychiatry and Clinical Neuroscience. 247(5), 264-274.
34.Pruneti C, Cosentino C, Sgromo M, Innocenti A. (2014) Skin Conductance Response as a decisive variable in individuals with a DSM-IV TR Axis I diagnosis. JMED Res.565009.
35.J A Gray. (1978) The neuropsychology of anxiety. , British Journal of Psychology 69, 417-438.
36.D C Fowles. (1980) The three-arousal model: Implications of Gray's two-factor learning theory for heart rate, electrodermal activity, and psychopathy. Psychophysiology. 17, 87-104.
37.D C Fowles. (1988) Psychophysiology and psychopathology: A motivational approach.Psychophysiology. 25, 373-391.
38.Palomba D, Stegagno L. (2004) . Psicofisiologia clinica.Roma: Carocci
39.M H Lader. (1975) The psychophysiology of anxious and depressed patients. , In Fowles, D. C. (acuradi),Clinical applications of psychophysiology. NewYork: Columbia University Press
40.M H Lader. (1983) Anxiety and depression. In Gale,A.&Edwards,J.A.(eds.). Physiological correlates of human behavior. Londra: Academic Press .
41.Lelliott P T, Noshirvani H F, Marks I M, Monteiro W O, Basoglu M et al. (1987) Relationship of skin conductance activity to clinical features in obsessive-compulsive ritualizers. , Psychological Medicine 17(4), 905-14.
42.S McLeod Hohen, D R Hipsley, P. (1995) Is hyperarousal essential to obsessive-compulsive disorder? Diminished physiologic flexibility, but not hyperarousal, characterizes patients with obsessive-compulsive disorder.Archives of General Psychiatry. 52(8), 688-93.
43.Zahn T P Leonard, H L Swedo, S E Rapaport, L J. (1996) Autonomic activity in children and adolescents with obsessive-compulsive disorder.Psychiatry. , Research 60, 67-76.
44.Kim A Y Jang, E H Kim, Choi S, K W Jeon, H J Yu et al. (2018) Automatic detection of major depressive disorder using electrodermal activity. , Sci Rep 8, 17030.
45.Poh M Z Swenson, N C Picard, W R. (2010) A wearable sensor for unobtrusive, long-term assessment of electrodermal activity.IEEE. , Trans. Biomed. Eng.57 1243-1252.
46.J M Gorman, R P Sloan. (2000) Heart rate variability in depressive and anxiety disorders.Am Heart. , J 14(4), 77-83.
47.R Schmidt Hartmann, F M Sander, Hegerl C, U. (2019) . Heart Rate Variability as Indicator of Clinical State in Depression 9, 735.
48.T Godefroy Lelard, Ahmaidi O, Krystkowiak S, Mouras P, H. (2017) . Mental Simulation of Painful Situations Has an Impact on Posture and Psychophysiological Parameters. Front. Psychol.8: .
49.T Krystkowiak Lelard, Montalan P, Longin B, Bucchioni E, G. (2014) Influence of postural threat on postural responses to aversive visual stimuli.Behav. Brain Res.266. 137-145.
50.Lang P J Bradley, M, B N Cuthbert. University of Florida (2008) Affective Picture System (IAPS): Affective Ratings of Pictures and Instruction Manual.Gainesville, FL:. Technical Report A-8
51.Osgood C E. (1957) Method and theory of experimental psychology. , New York: OxfordUniversityPress
52.Porges S W. (2011) The Polyvagal Theory: Neurophysiological Foundations of Emotions. , Attachment, Communication, and Self-regulation. W .W. Norton & Company
53.Corrigan Frank E M. (2014) Neurobiology and treatment of traumatic dissociation toward an embodied self. , NewYork: Springer 510.
54.A Cuomo, Maina A, Fagiolini G, A. (2017) Depressione e sintomi dolorosi.Focus on. , Brain 2.
55.J Clauw Goesling, D J Hassett, L A. (2013) Pain and depression: an integrative review of neurobiological and psychological factors. CurrPsychiatry Rep. 15(12), 421.
56.J Gattner, Jaracz K, Górna K, K. (2016) . Unexplained Painful Physical Symptoms in Patients with Major Depressive Disorder: Prevalence, Pathophysiology and Management.CNS Drugs 30(4), 293-304.
57.T Correll, C U Gallop, Vancampfort K, Stubbs D, B. (2016) Is Pain Perception Altered in People With Depression? A Systematic Review and. , Meta-Analysis of Experimental Pain Research.J Pain 17(12), 1257-1272.
58.C Blom Benatti, J M Rigillo, Alboni G, Zizzi S, F. (2016) . , Disease-Induced Neuro inflammation and Depression.CNS Neurol Disord Drug Targets, 15 4, 414-33.
59.Rijavec N, V N Grubic. (2012) Depression and pain: often together but still a clinical challenge: a review.Psychiatr Danub. 24(4), 346-52.
60.Payne K A Binik, Y M Amsel, Khalifè R, S. (2005) When sex hurts, anxiety and fear orient attention towards pain. Eur. , J Pain; 9(4), 427-36.
61.S Everaerd Both, Laan W, E. (2007) Desire emerges from excitement: a psychophysiological perspective on sexual motivation. In: Janssen E, editor.The psychophysiology of sex. , Bloomington (IN):IndianaUniversityPress, 327-39.
62.J Uhmann Hoyer, Rambow S, Jacobi J, F. (2009) Reduction of sexual dysfunction: by product of cognitive-behavioural therapy for psychological disorders?Sexual and Relationship Therapy;. 24(1), 64-73.
63.Molinari E, Castelnuovo G. (2010) clinica del dolore.Springer Verlag.